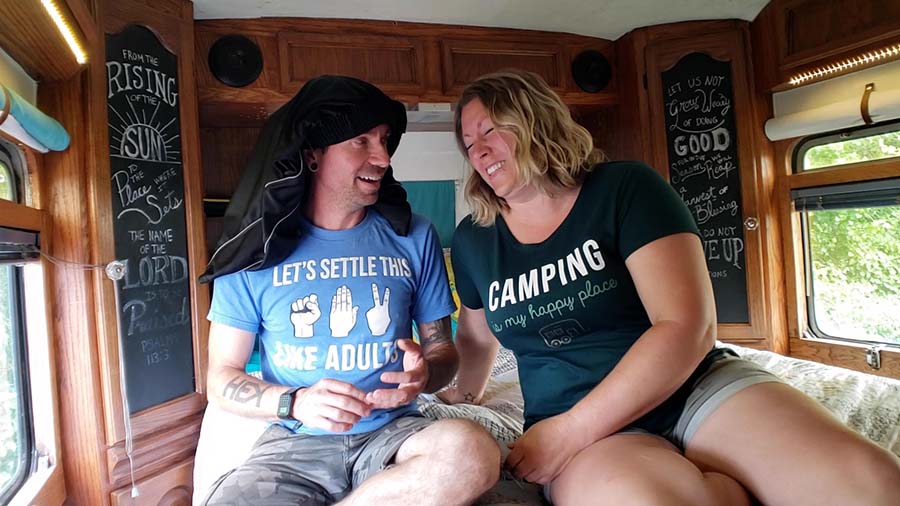 Summer Update In Fancy Fashion
VIDEO UPDATE: If you're reading this in an email, you can click on the image above to go straight to the video.
In our last video, we were in the midst of downsizing our storage in the garage & crawl space at the house, working on house projects and finishing a playset. It's summer now, and we're enjoying the warm weather now! Here's what we cover in this video:
We officially closed on our new property in Arizona! We're so excited to see how God uses us in the desert there. We won't be going there until the fall sometime.
We moved back into our bus in mid May and have been renting our lake home out on Airbnb/VRBO again. We've been able to connect with quite a few of our guests, and have had opportunities to have Kingdom conversations about God with several of our guests.
We, as an entire family helped with a ministry event called FireDrop in downtown Minneapolis a few weeks ago with some friends that have a heart for the inner city. The day included training on how to engage with people, invite them to the event and share the gospel as we walked around the surrounding neighborhoods. After talking, inviting and praying for several people, the event included free food, a DJ with music, speakers, giant bubbles, balloon animals and face painting for kids. We baptized 3 people including Gibson! It was an incredible day of seeing God connect us with hungry people, and even our boys had the opportunity to pray for healing for several people. We plan to help them with a 2nd event in Brainerd later this summer.
JD has been picking up random jobs including finish carpentry. We spent 2 weeks parked in our friends driveway in the bus while JD worked on their house, The Freedom House. CHECK OUT THEIR PODCAST – Occupy Freedom Podcast. Listen on Apple Music on Spotify, or on your favorite podcast app.
Recently a friend that started a solar business (Sota Solar) has been hiring him to help with installs on a few RV's. We actually met Shawn and his family at a Vintage bus rally in Hibbing MN a few years ago, and found out they live in the same city as us!
We purchased a new towable vehicle, a JEEP Wrangler. It's a 4 door, and God provided us with an amazing deal on it at $5k less than the average comparable jeep was going for, so we could fit it in our budget. We've sold our van now as well.
JD installed new lights in the bus! Real ones, with switches and everything! No more shop lights! Yay! The boys show them off in the video.
JD and some great friends installed new tires on the bus.
New internet service for better internet while traveling: Starlink
Prayer Requests
Wisdom in trip planning. We'll be in Minnesota for most of the summer, and have a few possible short trips planned in July and August, but those are still in the air. This fall we anticipate traveling in the bus again away from MN with a for sure stop to our new property in Arizona. But we really want to lean in and listen to where the Lord is leading us.
---
TELEGRAM
If you haven't joined already, we encourage you to join our channel on Telegram, where we've been posting short updates in real time. We posted a few clips of the bus projects JD's been working on. Download and find our channel at the following link: https://t.me/+-vH59gjLAfM5MThh
We love you guys, thanks for watching/reading and we'll see you in the next video!
Lia & JD