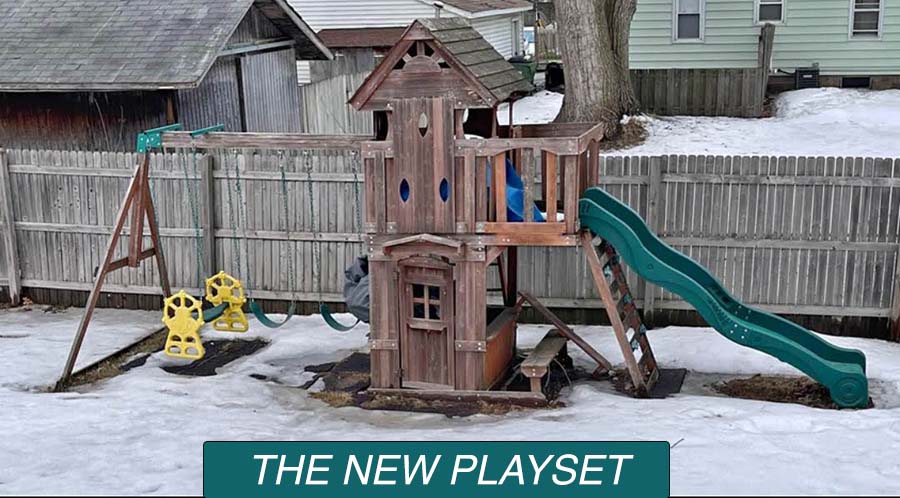 Monthly Update: The New Playset
VIDEO UPDATE: If you're reading this in an email, you can click on the image above to go straight to the video.
ALERT: Don't miss out on the photos at the bottom! AND read all the way through, because we don't cover everything in the video this week.
We've been working hard the last few weeks sorting through our "stuff" that we've had stored in the crawl space, boat house & small garage. We've also been making a few updates on The Beach House as we get ready to start renting it out again.
The video this week is more of a fun style talking about our New Playset that we've acquired for The Beach House. For the boys and for our guests.
Here's a rundown of what ELSE has been going on in the last few weeks:
JD stayed at the house to work on some projects

Shampoo all the carpets
Painted the bunk beds white (they were unfinished 2×4)
Rebuilt the couch platform in the bus (it can now laydown into a bed again!)
Worked on some electrical things in the Bus for the solar
Installed our new washer and dryer and cleaning cabinets in house

Lia spent a week with the boys at her parents house

Lia and her family are working on publishing her Grandpas short stories into a book, she worked with her mom on gathering old photos that correspond with the stories. (a labor of love)
Played in the snow!
Weaved a new bed runner for the Beach House master bedroom (on her Great-Great-Grandmothers loom!)

Emptied the ENTIRE crawlspace into the kitchen and living room of the house and lived in a mess for a few days while we sorted everything!!
Donated many MANY items!
Celebrated God's HEALING power over Gibson with a bonfire and party! (He is fully healed from a skin infection called molluscum contagiosum)
Boys enjoyed their first bath together (after a year of separate baths because of Gibsons skin infection).
Found new dishes for the bus that are unbreakable, and microwavable! (we thought we'd never find them!)
JDs parents spent 3 days with us! (we wished they lived closer)
Prayer Requests
Pray for JD as he continues his 12 week class at Church this month, that he would be a sponge learning from the Lord about all things kingdom.
Pray for the property in Arizona, we haven't closed on it yet, that God's hand would be upon it.
Pray for The Beach House to be filled with amazing guests as we open it up to rent again
Pray for a smooth transition back into the bus
Pray for unity in our family of 4
---
TELEGRAM
If you haven't joined already, we encourage you to join our channel on Telegram, where we've been posting quicker updates in real time. We talked more in depth about Telegram in our Christmas update, about how we are utilizing this to keep YOU, our supporters updated. It's not another social media, it's a private messaging app. Download and find our channel at the following link: https://t.me/+-vH59gjLAfM5MThh
We love you guys, thanks for watching/reading and we'll see you in the next video!
Lia & JD